opublikowano: 09-02-2015
Sędzi Katarzyny Banko sposób na prawomocny wyrok?
Ochrona zaufania obywatela wobec państwa nakazuje unikania sytuacji, w których obywatel znajdowałby się w swoistej "pułapce prawnej".*
Zobaczmy więc, jak to wygląda w praktyce.

1.
21 października 2014 roku sędzia Sądu Okręgowego w Gliwicach, mgr Katarzyna Banko, ogłosiła wyrok w sprawie o sygnaturze I C 194/13.
Już 24 października radca prawny reprezentujący stronę pozwaną wysyła wniosek o sporządzenie na piśmie wyroku wraz z uzasadnieniem.
14 dniowy termin na wniesienie apelacji biegnie bowiem od dnia otrzymania tego dokumentu.
Gdyby jednak radca prawny zaniechał powyższego, wtedy apelację mógłby wnieść w nieprzekraczalnym terminie 21 dni od daty ogłoszenia wyroku, czyli do dnia 14 listopada 2014 roku.
2.
28 października 2014 roku (do złożenia apelacji pozostało równo 14 dni) urzędniczka Sądu Okręgowego w Gliwicach niejaka Paulina Bednarczyk stwierdza, że wysłana przez radcę prawnego Michała Stempina koperta była pusta.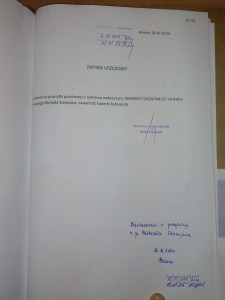 Jednak mimo to pusta koperta trafiła do akt sprawy I C 194/13.
Jak wynika z pieczęci, w jaką zaopatrzony jest ten dokument, "już" 6 listopada (a wiec po 9 dniach!) przedłożono dokument asystentowi sędziego.
Do upływu terminu na wniesienie apelacji pozostało tylko… 8 dni.
3.
Dokument ostatni.
14 listopada 2014 roku Sąd Okręgowy w Gliwicach formułuje pismo do radcy prawnego Michała Stempina informując go, że wysłał pustą kopertę.
W chwili formułowania pisma upływał termin na wniesienie apelacji.
Kiedy radca prawny odebrał korespondencję było już wyraźnie "po ptokach".
Termin na wniesienie apelacji minął 3 dni wcześniej!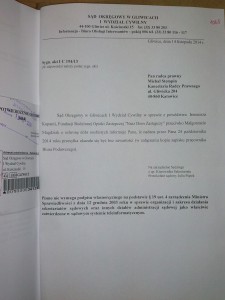 4.
Od momentu zauważenia rzekomego braku (pusta koperta) do momentu sformułowania przez Sąd informacji o powyższym upłynęło 17 dni!
Przy czym sędzia (asystent) był powiadomiony po 9 dniach od stwierdzenia faktu, natomiast decyzja o powiadomieniu radcy prawnego o oczywistej pomyłce zabrała aż 8 dni!
Sąd Okręgowy poprzez przewlekłość własnego postępowania doprowadził do utracenia przez stronę możliwości wniesienia apelacji.
Trzeba zważyć, że istniejące środki łączności w drugiej dekadzie trzeciego tysiąclecia nawet w Polsce pozwalają na powiadomienie drogą telefoniczną.
Sąd jednak wybrał pocztę, przy czym uczynił to tak, aby być pewnym, że wyrok uprawomocni się, nim informacja o "pustej kopercie" dotrze do strony.
Niestety, jest to jedyny wniosek, jaki można wysnuć w oparciu o daty sporządzania sądowych pism.
Trybunał Konstytucyjny orzekł, że ochrona zaufania obywatela wobec państwa nakazuje unikania sytuacji, w których obywatel znajdowałby się w swoistej "pułapce prawnej".
Praktyka sądowa natomiast dowodzi, że nasze trybunały czyhają na tego rodzaju pułapki po to tylko, by je bezwzględnie wykorzystywać przeciw obywatelom.
A czasem same je wywołują.

* Trybunał Konstytucyjny z 28 lutego 2012 r., K5/11
Napisane przez: Humpty Dumpty