opublikowano: 13-04-2015
Opole i milion za weksel darowany przez SSO Magdalenę Domińczyk-Trzcianską 
Czy bezrobotny mieszkaniec opolskiego miasteczka był milionerem?
Ile pani prezes firmy ubezpieczeniowej zapłaciła za weksel warty fortunę?
I czy początkujący wrocławski adwokat postępuje zgodnie z etyką zawodu?
1.
Sąd Okręgowy w Opolu, orzeczenie z dnia 9 września 2014 roku:
Przewodniczący SSO Magdalena Domińczyk-Trzciańska po rozpoznaniu na posiedzeniu niejawnym (…) na skutek pozwu wniesionego w dniu 21 lipca 2014 roku przez Karolinę Rakowską – Dobrowolską nakazuje pozwanym Grzegorzowi Kaziewiczowi i Annie Kaziewicz,
aby zapłacili solidarnie na rzecz Karoliny Rakowskiej-Dobrowolskiej kwotę: 970.000,- zł (…) z odsetkami ustawowymi od dnia 22 lipca 2014 r. do dnia zapłaty oraz 19.342 zł tytułem zwrotu kosztów procesu (…).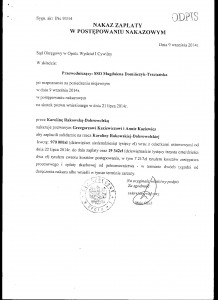 Orzeczenie jest prawomocne.
2.
Jak to się stało, że młoda kobieta, od niespełna roku będąca prezesem pewnej wrocławskiej firmy zajmującej się ubezpieczeniami (firma niewielka, zarejestrowana w KRS 30 września 2013 r.) weszła w posiadanie takiej fortuny (zarabiający tzw. najniższą krajową by tyle zarobić musiałby pracować prawie… 75 lat!)?
3.
tutaj mieszkał Mariusz D.
Nikomu nieznany jako przedsiębiorca (nie figuruje w CEIDG również pośród podmiotów wykreślonych), na próżno szukany w KRS aktualnie już były mieszkaniec Strzelc Opolskich Mariusz Piotr D. zgodnie ze swoim oświadczeniem miał w latach 2006-2008 udzielać pozwanym byłym już małżonkom Kaziewicz pożyczek. Zabezpieczeniem ich miał być weksel własny Grzegorza z poręczeniem Anny.
Tak wynika z datowanego na dzień 17 lipca dokumentu, załączonego do pozwu.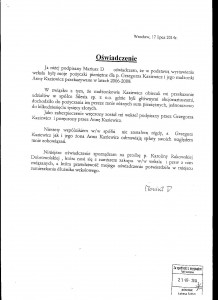 4.
Tego samego dnia, jak wynika z dokumentów, Mariusz Piotr D. zdążył u wrocławskiego notariusza załatwić wzór podpisu i indosować weksel na Karolinę Rakowską – Dobrowolską.
Prawdopodobnie tego samego dnia Karolina zapłaciła za weksel, po czym udała się do kancelarii młodego wrocławskiego adwokata (na rynku od 1 sierpnia 2009 r.) Łukasza Sołtysa.
17 lipca 2014 r. przypadał w czwartek.
I tego samego dnia mec. Sołtys wystosował do pozwanych Kaziewiczów wezwanie do wykupu weksla.
Wrocławski mecenas wyznaczył również nieprzekraczalny termin dokonania wpłaty blisko miliona zł.
Na poniedziałek 21 lipca!
W tak krótkim czasie poczta polska nie zdążyła nawet doręczyć korespondencji.
Sołtys okazał się jednak słownym człowiekiem, i 21 lipca w Sądzie Okręgowym w Opolu złożył pozew.
Zupełnie nie bacząc na to, że jego wezwanie do zapłaty może być doręczone dopiero za dwa tygodnie.
5.
Przyjrzyjmy się wartemu fortunę wekslowi.
Na awersie widać wyraźnie datę wystawienia weksla. Z oświadczenia Macieja Piotra D. wiemy jednak, że weksel in blanco (niewypełniony, jedynie z podpisem Kaziewicza i poręczeniem jego ówczesnej żony) był wręczony jako zabezpieczenie szeregu pożyczek udzielanych w latach 2006-2008.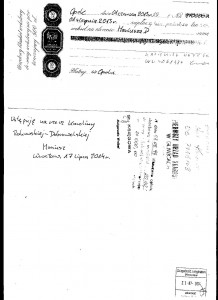 Jak więc wytłumaczyć, że na rewersie widnieje  adnotacja z 3 sierpnia 1999 roku I Urzędu Skarbowego w Gliwicach?
Jakoś tak dziwnie umieszczona po pochodzącym z przyszłości wpisie Anny Kaziewicz.
Czy to przypadek, czy też przesłanka wskazująca na faktyczną datę powstania weksla – nie w 2006, ale 7 (siedem) lat wcześniej, w 1999 r.?
Wróble, a nawet jaskółki gnieżdżące się pod okapami domu na Barlickiego 13 ćwierkają, że tak naprawdę weksel był wystawiony w ramach zupełnie innej operacji finansowej – jako zabezpieczenie zakupu na raty w czasach, kiedy Kaziewicz był tylko nic nieznaczącym referentem w firmie Gąsiora i Ewiaka, a jego żona jeszcze nie zdążyła stać się największym udziałowcem SILESIA sp. z o.o., ale tak jak inni posiadała tylko 1 (jeden) udział.
Zwrócony po spłacie ostatniej raty zamiast trafić do niszczarki znalazł schronienie w sejfie Grzegorza Kaziewicza, bo a nuż kiedyś się przyda.
I faktycznie przydał się.
Za pomocą osób trzecich hipoteka wspólnego do niedawna mieszkania Kaziewiczów została obciążona kwotą ponad dwukrotnie przekraczającą jego rynkową wartość.
Anna Kaziewicz jest zatem załatwiona.
6.
Oczywiście jest to hipoteza oparta jedynie o… znajomość języka jaskółek.
I akt sądowych.
Na kanwie tej historii powstaje jednak pytanie, co do kurwy nędzy robią służby odpowiedzialne za bezpieczeństwo obywateli?
Mające walczyć z korupcją i praniem brudnych pieniędzy?
Praktycznie bezrobotny uruchamia weksel na sumę, której na oczy nie widziała cała jego rodzina, bajdurząc przy tym o pożyczkach idących w dziesiątki tysięcy, panienka z Wrocławia udaje, że kupuje, młody adwokat wyznacza absurdalny termin zapłaty – wszystko to na milę cuchnie oszustwem.
Oczywiście możliwa jest też hipoteza, że są to rozrachunki przestępcze, a Maciej Piotr D. był szefem grupy handlarzy narkotyków.

A dilerzy Anna i Grzegorz K. nie rozliczyli się ze sprzedanych konopii.

Tymczasem prawda jest taka, że nikt od lat nawet nie spróbował pochylić się nad działalnością tych ludzi.
Od 1999 roku!
I to mimo zawiadomień kierowanych do gliwickiej prokuratury, która w retorsji za niepokojenie Kaziewicza wytaczała procesy jego ofiarom!
Najwyraźniej nasze państwo wielkich (złodziei?) pozostawia w spokoju.
Ba, nie tylko, nawet chroni!
Woli zajmować się włamaniami do altan i piwnic.
I "trzepać" gorliwie podatnika, który kupił sobie samochód za 20.000,- zł.
Bo przecież duży może więcej.
W PO-lsce prezydenta Bronisława Komorowskiego.
28/29.03 2015
Tematy w dziale dla inteligentnych:
ARTYKUŁY - do przemyślenia z cyklu: POLITYKA - PIENIĄDZ - WŁADZA
Polecam sprawy poruszane w działach:

SĄDY
PROKURATURA
ADWOKATURA

POLITYKA
PRAWO
INTERWENCJE - sprawy czytelników
"AFERY PRAWA"
Niezależne Czasopismo Internetowe www.aferyprawa.com redagowane przez dziennikarzy AP i sympatyków z całego świata których celem jest PRAWO, PRAWDA SPRAWIEDLIWOŚĆ DOSTĘP DO INFORMACJI ORAZ DOBRO CZŁOWIEKA


uwagi i wnioski proszę wysyłać na adres: afery@poczta.fm - Polska
aferyprawa@gmail.com
Dziękujemy za przysłane teksty opinie i informacje.
WSZYSTKICH INFORMUJĘ ŻE WOLNOŚĆ WYPOWIEDZI I SWOBODA WYRAŻANIA SWOICH POGLĄDÓW JEST ZAGWARANTOWANA ART 54 KONSTYTUCJI RZECZYPOSPOLITEJ POLSKIEJ.