opublikowano: 18-05-2015
Nowy Sącz - niekompetentni prokuratorzy Sebastian Kącki pod nadzorem Piotra Kosmatego stawiają bezzasadne zarzuty Markowi H. i rodzicom w sprawie nieumyślnego spowodowania śmierci dziecka. 
Nieumyślne spowodowanie śmierci dziecka i świadczenie usług medycznych bez wymaganych uprawnień - takie zarzuty postawiono Markowi H., znachorowi z Nowego Sącza. Prokuratura Okręgowa w Nowym Sączu zakończyła śledztwo w tej sprawie i z dniem 7 kwietnia 2015r wreszcie po roku wydała akt oskarżenia.
Cała akcja zniszczenia Marka H. przez funkcjonariuszy odbywała się pod naciskiem mediów takich jak np. TVN24, Fakt,  Gazeta Krakowska, Newsweek, internetu i lokalnych gazet oraz sąsiadki - lekarki dla której był konkurencją...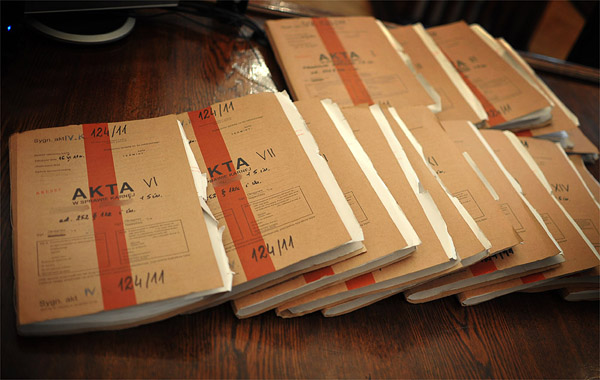 Rodzice dziewczynki Joanna i Michał P. też zostali oskarżeni o nieumyślne spowodowanie śmierci półrocznego dziecka - długo oczekiwanej córki oraz - co jest abstrakcją - o znęcanie się nad nią ze szczególnym okrucieństwem - polegającym na niepodawaniu jej dostatecznej ilości i jakości jedzenia. 
Według "przebiegłych" biegłych rodzice w chwili czynu mieli ograniczoną zdolność rozpoznania jego znaczenia i pokierowania swoim postępowaniem co jest ewidentnym dowodem wypisywania opinii "na zamówienie" bez kompetentnych badań lekarskich i analizy faktów w sprawie. A faktycznie to rodzice Magdy wychowują poprawnie 6-letniego syna, a więc mają doświadczenie wychowawcze, sami zaś posiadają wyższe wykształcenia oraz prowadzą działalność gospodarczą PPHU "Kryształ"- powodziło im się bardzo dobrze i wszystko robili aby ich wymarzona córka miała jak najlepsze warunki i nic jej nie brakowało - czyli zarzuty prokuratorskie nijak mają się do faktów. 
Dlaczego mieli problemy zdrowotne z córką? 
Dziecko miało skazę białkową - nie tolerowało mleka i alergiczne wysypki na skórze oraz zniszczony tym samym cały układ przyswajania pokarmowego. W tym stanie organizm nie jest w stanie normalnie funkcjonować. W efekcie to co zjadło to zaraz zwymiotowało lub odwadniało się przez ciągłe biegunki. Rodzice byli tym faktem udręczeni i starali się jak mogli nawadniać dziecko. W tym celu udali się m.in. do Pana Marka ponieważ wielokrotnie im pomógł np. w zajściu w ciążę. Z uwagi na uczulenia chorej p. Marek zalecił najpierw rozrzedzone kozie mleko a następnie karmienie płatkami na wodzie - i takie postępowanie przez lekarzy jest też  zalecane.  
Rodzice karmili córkę tak często jak tylko mogli, niestety z powodów którzy biegli nie wyjaśnili dziecko nagle zmarło - bez wątpienia nie z niedożywienia tylko z wad genetycznych - nietolerancji białka przez organizm i innych powikłań do tej pory niezbadanych i niewyjaśnionych.

W śledztwie rodzice nie poczuwali się do winy, wprost przeciwnie, przyznali jednak, że wykonywali polecenia znajomego im z wcześniejszych osiągnięć wyleczenia ich oraz dziecka  Marka H. Wykorzystali to niekumaci przecież w sprawach leczenia funkcjonariusze prokuratury nowosądeckiej i zastosowali typowo stalinowską procedurę - dajcie człowieka a paragraf się znajdzie. 
Prokuratorzy oskarżyli go o  tzw. "sprawstwo kierownicze" do narażenia dziecka na bezpośrednie niebezpieczeństwo utraty życia i w konsekwencji jego zgon oraz świadczenie usług medycznych bez uprawnień blisko 60 osobom z zamian za korzyści majątkowe - za co grozi mu nawet do pięciu lat więzienia. 
W śledztwie Marek H. został bezzasadnie aresztowany i pół roku bezmyślnie przetrzymywany jakby należał do grupy przestępczej. Nie przyznał się do zarzutów i odmówił składania wyjaśnień co do swojej niewinności - dlatego aresztem próbowano go "zmiękczyć"- w ten sposób na nim wymusić jakiekolwiek przyznanie się do winy oraz znaleźć poprzez media osoby - niby poszkodowane którym Marek nie pomógł w ich chorobach. 
Tym samym naruszono jego dobra osobiste nie mówiąc o wszelkiego rodzaju pomówieniach w mediach.
- Z uwagi na ważny interes społeczny złożyliśmy wniosek o upublicznienie wizerunku Marka H. - dodaje Piotr Kosmaty. Jak tłumaczy w ten sposób prokuratura chce dotrzeć do jak największej liczby osób, które korzystały z usług znachora i ewentualnie, jeżeli będzie to konieczne, poszerzyć zarzuty.
Jesteśmy zadowoleni, że sąd podzielił naszą argumentację - komentuje Piotr Kosmaty z Prokuratury Apelacyjnej w Krakowie. Jak dodaje, tylko izolowanie rodziców Magdy i znachora może zabezpieczyć prawidłowo tok tego postępowania. 
- Przebywanie ich na wolności mogłoby stwarzać zagrożenie utrudnienia tego śledztwa - podkreśla Piotr Kosmaty. 
Oczywiście, że nie jest w stanie wyjaśnić co mogliby te osoby utrudniać, wszak w intencji rodziców jak i znachora było aby poznać prawdziwe przyczyny śmierci dziewczynki. Niestety, do dnia dzisiejszego ani biegli ani prokuratorzy nie byli w stanie i w wiedzy aby konkretnie i logicznie uzasadnić przyczynę jej śmierci - wszak tak nagła śmierć - dziecko w ciągu jednego dnia nagle poczuło się bardzo źle i  umarło mimo stałego dożywiania i picia - powinna dać lekarzom do myślenia i poszukiwania faktycznej przyczyny zgonu. 
Z pewnością śmierć dziewczynki nie spowodowali rodzice ani znachor - ich intencją było dobro dziecka. Dziecko było przecież też pod opieką położnej środowiskowo-rodzinnej, lekarza pediatry i pielęgniarki środowiskowo-rodzinnej, jednak żadna z tych osób nie zostały postawione zarzuty zaniedbania.
Wiadomo, że aby lekarz został dobrym lekarzem musi wcześniej uśmiercić kilku pacjentów, ale za to nie zostaje ukarany - wszak sitwa lekarska zawsze obroni swojego i swe błędy w sztuce zwali na Boga. Podobnie adwokaci zwalają swoje zaniedbania w sprawach na sędziów - wszak to oni wydają wyroki... 
Znachor to konkurencja, nie ma ochrony mafii, a więc łatwo zrobić z niego "kozła ofiarnego". 
Bez wątpienia sytuacja p. Marka jest patowa - wszak jaki funkcjonariusz prokuratury potrafi przyznać się do błędów? Ma być teoretycznie niby nieomylnym bożkiem i władcą mienia i życia człowieka. Tymczasem prokuratorami zostają zwykle tzw. "odpady prawnicze" - czyli najgorsi absolwenci uczelni prawniczych.
W dodatku prawnicy mają w stosunku do innych absolwentów - np. uczelni technicznych czy pedagogicznych naprawdę kiepskie wykształcenie - np. logika na poziomie przedszkola, a wiedza ścisła jeszcze niżej... dlatego żadnej logiki w kodeksach też nie ma - wszak czytając kodeks od początku do końca - jesteś winny, ale zaczynając od końca - jesteś niewinny... Po to tak zrobiono aby aferzyści, i ludzie z mafii togowej zawsze mogli uniknąć odpowiedzialności za popełnione przestępstwa - to jedyni usługodawcy którzy nie odpowiadają za popełnione partactwa i nie muszą a nawet nie potrafią naprawić własnych błędów.... żenujące... 
AP
PS. 
Sąd Rejonowy w Nowym Sączu (ul. Strzelecka 1a II Wydział Karny)  wyznaczył posiedzenie w sprawie Marka H. na dzień 22 maja 2015r. godz. 9 sala 26.
My tam będziemy - zapraszamy zainteresowanych.
Polecam sprawy poruszane w działach:

SĄDY
PROKURATURA
ADWOKATURA

POLITYKA
PRAWO
INTERWENCJE - sprawy czytelników
"AFERY PRAWA"
Niezależne Czasopismo Internetowe www.aferyprawa.com redagowane przez dziennikarzy AP i sympatyków z całego świata których celem jest PRAWO, PRAWDA SPRAWIEDLIWOŚĆ DOSTĘP DO INFORMACJI ORAZ DOBRO CZŁOWIEKA


uwagi i wnioski proszę wysyłać na adres: afery@poczta.fm - Polska
aferyprawa@gmail.com
Dziękujemy za przysłane teksty opinie i informacje.
WSZYSTKICH INFORMUJĘ ŻE WOLNOŚĆ WYPOWIEDZI I SWOBODA WYRAŻANIA SWOICH POGLĄDÓW JEST ZAGWARANTOWANA ART 54 KONSTYTUCJI RZECZYPOSPOLITEJ POLSKIEJ.